MARCH 30, 2021
Excelerate Energy is pleased to announce Engr. Kazi Md. Anwarul Azim as Director of Downstream Development for Excelerate Bangladesh. Bringing more than 20 years of project execution experience in the Bangladeshi oil and gas industry, he will lead the company's expansion across Bangladesh's energy sector, including the areas of downstream gas distribution and power generation. Kazi joined the company on February 1, 2021.
Excelerate has a strong track record of bringing reliability, resiliency, and flexibility to Bangladesh's energy system through its two floating storage and regasification units (FSRUs) located offshore in the Bay of Bengal. In order to support Bangladesh's mission to expand its power capacity while reducing its reliance on power generated from other dirtier fossil fuels, Excelerate will deepen its trusted partnership with the country to increase the availability of clean, affordable power throughout the region.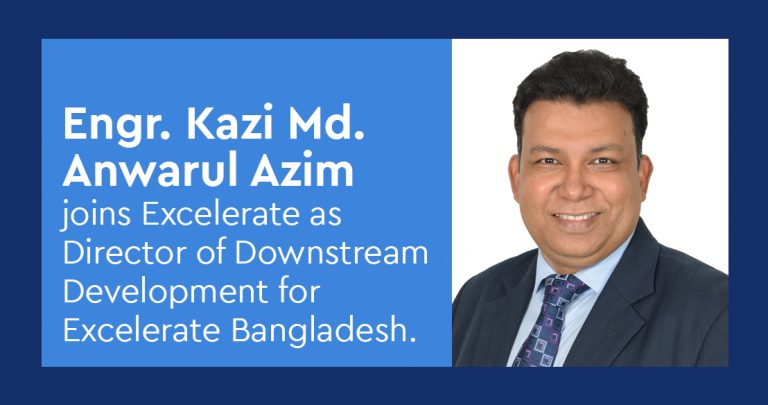 Prior to joining Excelerate, Kazi spent the last decade as Deputy General Manager at Rupantarita Prakritik Gas Company Limited (RPGCL), a government-owned natural gas transportation and distribution company, where he led the efforts to establish its current LNG activities. Kazi also led the execution of LNG projects at Petrobangla, Bangladesh's state-owned national oil company, where he worked to introduce LNG imports into the country. Kazi began his career as an engineer at Titas Gas, Bangladesh's largest state-owned natural gas transmission and distribution company.
Kazi holds an MBA from the University of Dhaka's Institute of Business Administration. He graduated from Bangladesh University of Engineering and Technology in Dhaka with a Bachelor of Science in Electrical and Electronic Engineering degree, First Class. He is an active member of the Institute of Engineers Bangladesh.